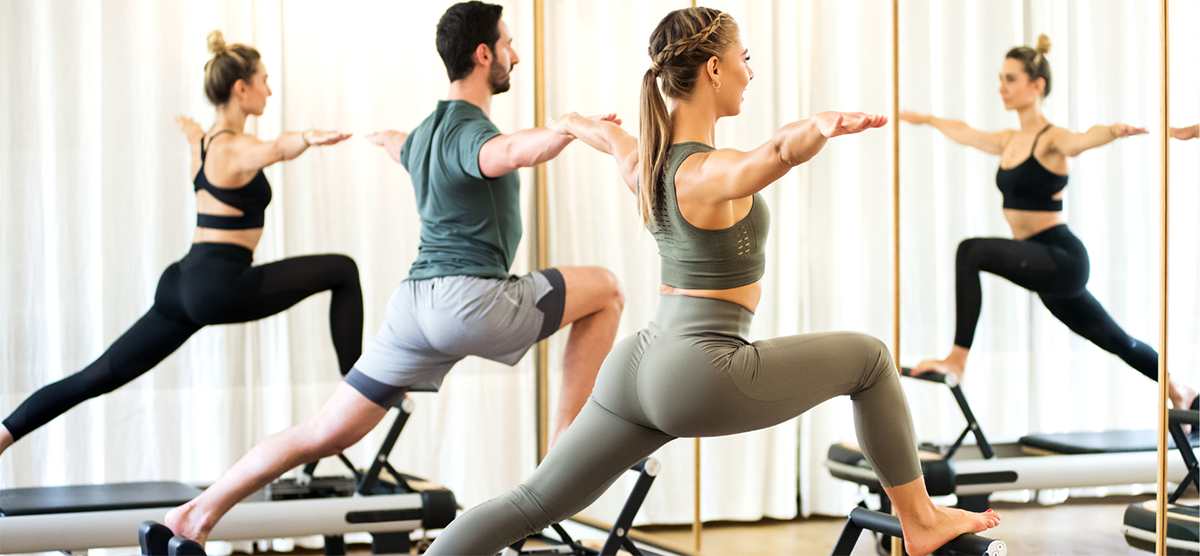 PILATES CLASS
Pilates is a whole-body exercise that improves posture, the alignment of the body, and muscle strength. A body conditioning method developed by Joseph H Pilates, this complete exercise system strengthens the muscles with few repetitions, emphasizing form and alignment. Pilates focuses on the 'core,' the muscles of the back and stomach, and the intrinsic supporting muscles to give a long, lean physique.
The movements lead to daily life improvements such as better posture, efficient movements, and some pain relief associated with physical imbalances.
Apparatus (Reformer, Cadillac, Chair, Barrel, and ARC) helps you move, stretch, and boost your energy by breathing while you are exercising.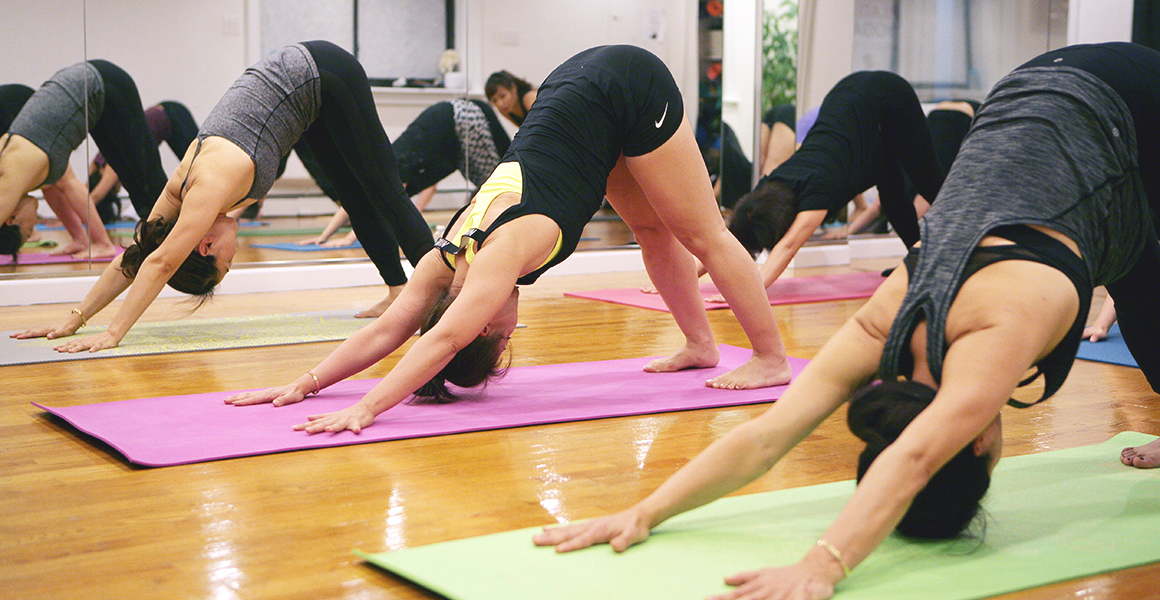 MAT CLASS
(Vinyasa Yoga, Mat Pilates, Flying (aerial) Yoga, TRX (Total Resistance Exercise), and ZUMBA­)
Vinyasa Yoga
A Vinyasa yoga class focuses on the dynamic flow from posture to posture using breath. It offers a variety of postures with no two classes ever being alike. If you think yoga is too slow and boring, don't worry about that! A power vinyasa yoga class is taught at a faster and more dynamic pace and is certainly not boring.
Flying (aerial) Yoga
Flying Yoga combines yoga, Pilates, and dance with the use of a hammock. The hammock in the air releases tension on the bone and muscles. As a result, it increases strength and flexibility, decompresses the spine, and increases energy and blood flow.
STRONG by Zumba
Stop counting the reps, and start training to the beat!! STRONG by Zumba syncs body weight, muscle conditioning, and cardio movements to original, specifically designed music to match every single move to a beat. Every squat, every lunge, and every burpee is driven by the music, helping you make it to that last rep, and maybe even five more.
Zumba
Based on Latin rhythms and steps, Zumba is a dance workout that mixes low-intensity and high-intensity moves for an interval-style, calorie burning dance fitness. It is a total workout that combines all elements of fitness: cardio, muscle conditioning, balance, and flexibility.
TRX (Total body Resistance eXercise)
TRX, also known as Total body Resistance eXercise, burns fat and builds strength, balance, and flexibility by using your own body weight. Also, you can control the intensity of the exercises, so TRX can help you reach your fitness goal(s) no matter what your fitness level may be.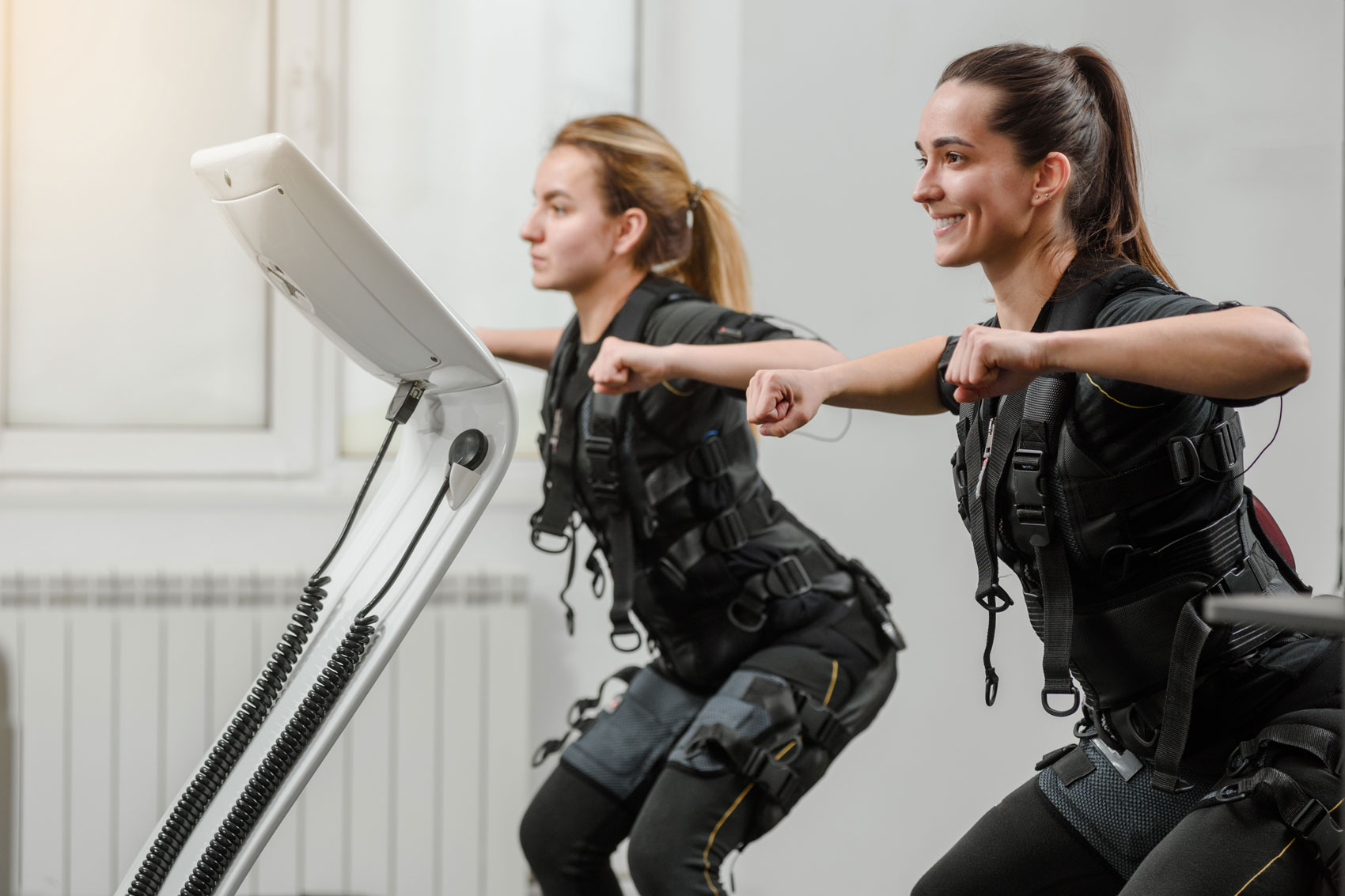 EMS TRAINING
EMS is the elicitation of muscle contraction using electric impulses.
The impulses are generated by a device and delivered through electrodes to the skin surface above the muscles to be stimulated. 
The impulses cause the muscles to contract, so the result is similar to the actual movement and regular contractions of the muscles.
This state-of-the-art technology gives all the benefits of 2 hours workout in just 20 minutes, and 2 trainings per week is enough!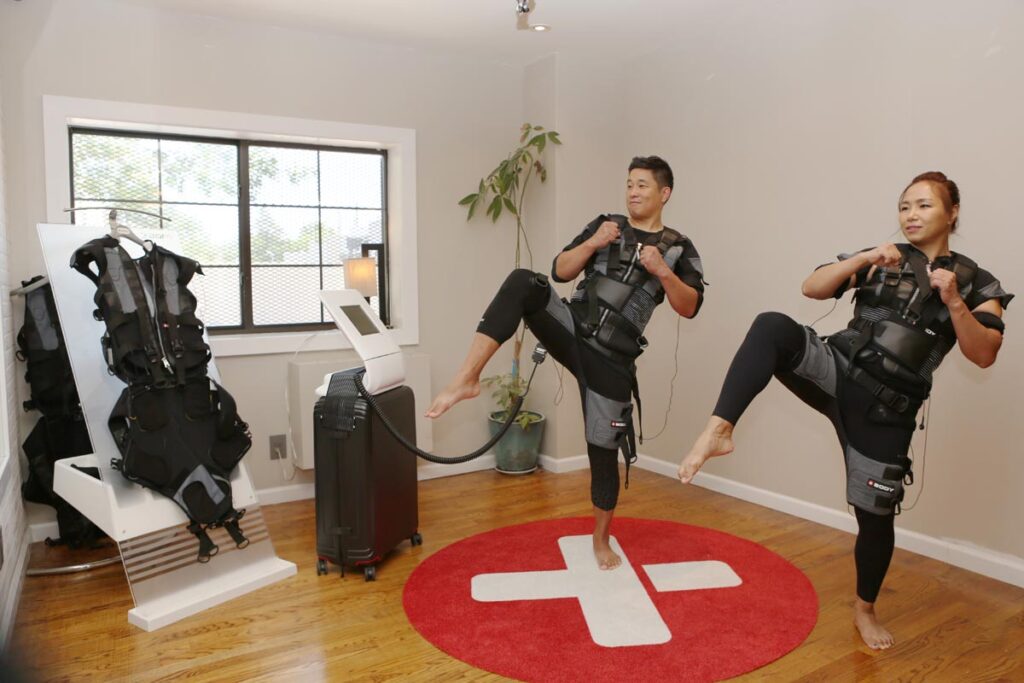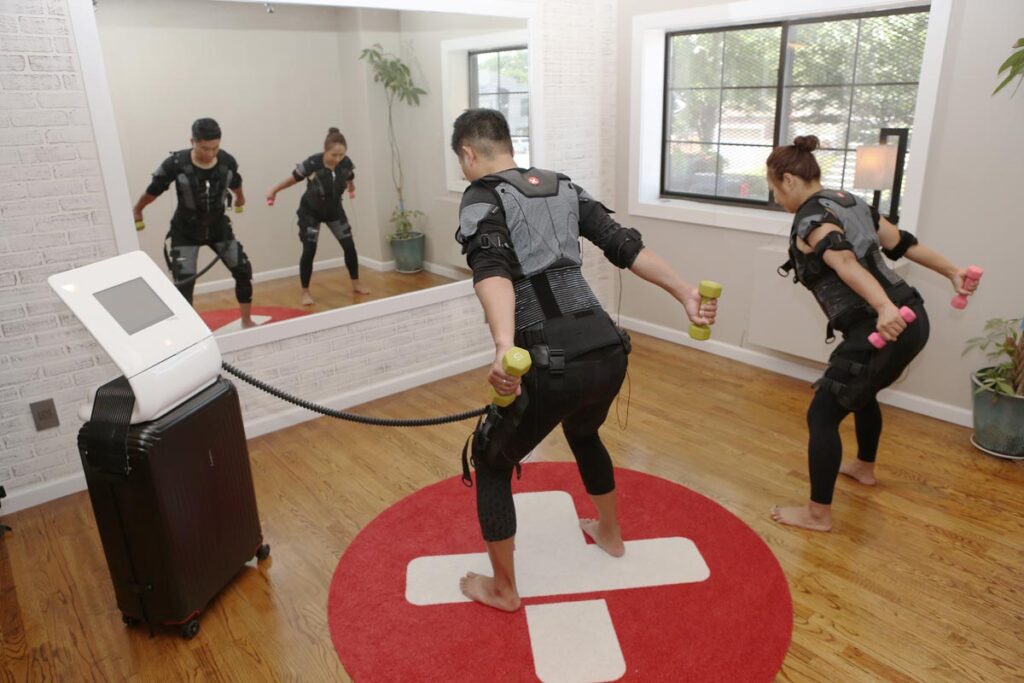 BUNGEE PHYSIO
Bungee Fitness
Studio Square S is the first and only studio to bring BUNGEE PHYSIO (aka Bungee Fitness) to Queens, New York since 2019.
Bungee physio is an exciting high cardio full body workout which focuses on postures and alignments utilizing essential bungee skills while maintaining a raised heart rate for maximum calories burn. Bungee cord resistance provides awesome experiences with low impact on joints.Are you looking for a NEW fitness program? Tired of ordinary workout routines? Try our high-quality and electrifying bungee class.All participants must be at least 16 years of age and up